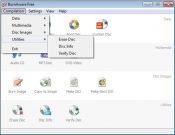 BurnAware writes CDs/ DVDs and Blu-ray discs in a variety of formats. You can burn bootable, video, audio, and MP3 discs. Boot images can be created in ISO or BIN formats and any disc and copied into an image file on the hard drive.
This feature turns useful when you need to back up important data or duplicate a CD/ DVD.
BurnAware is a great app to add and burn content onto disc drives and BluRay drives. Many big competitors in this field and BurnAware can still be considered a rather smaller company, but they will bring you many great solutions.
Along with burning content onto discs, this tool can also help you erase content from discs and more.
Simple GUI Enables Easy Use
Once you start BurnAware, you'll notice that it has an interface that shouldn't be too hard to master. The interface is essentially similar to other types of software that you'll find in this field.
When you go through the installation, you should know that some third-party programs are included, so make sure you don't install them if you don't want them.
The interface, or the main window, is quite easy to handle once you start. You can bring up new windows as you get started, which should not be too hard to handle, even if you're a beginner with this tool.
Create Multimedia Discs
Of course, the main purpose of this tool is to help you create multimedia discs. It means you'll be able to copy songs and video footage onto discs and burn it, allowing you to do this quickly and easily without wasting too much of your time.
For instance, you can create MP3 discs, which is the primary way people use this app. You can also use other formats like AAC, M4A, OGG, WAV, and WMA.
Another feature that will please users is the ability to erase contents from discs. It is applicable mostly for discs where this feature is enabled. You can also create backups and more.
Conclusion
BurnAware is a great tool to use when you want to burn content to your disc and copy content of any type you want.
BurnAware features and benefits:
Burn Data, Bootable, and Multisession discs

Burn Audio, Video, and MP3 discs
Create and burn ISO/CUE/BIN images

Copy discs to ISO images
Erase rewritable discs