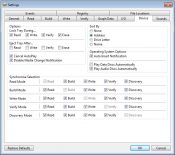 ImgBurn burns CDs, HD DVDs, and Blu-ray discs integrating five modes. So, it can transform a disc into an image file, create an image from files located on the hard drive and write it to a disc,
It can compare the result to the original image to check the integrity of files, thus discovering the quality of the burns your CD/ DVD writer can produce.
All image formats are supported. If you're looking for a versatile and user-friendly app for burning files to CDs and other drives, then you can't go wrong with ImgBurn.
It's one of the most widely used apps for burning CDs and DVDs and making virtual images for drives that you might want to use. It's seen as the ultimate image burner.
Burn to CDs and DVDs
This app's most widely used feature is its ability to burn files and data to CDs and DVDs. Whether you're looking to burn music or images to your drive, it will provide you with the capacity to do either of the two or for other types of files. You'll be pleased with its versatility when you use it.
It is enabled by widespread support for different file types. The most used file types supported here are BIN, CUE, DVD, IMG, ISO, MDS, and NRG.
As you can see, most of these file types are aimed at applications and their installation, so you'll also be able to create installation CDs with this tool.
Beginner and Advanced Settings
If you're more of a beginner and haven't used a burning tool before or don't want to use the additional functions, you should be completely fine with this tool. It has a user-friendly interface makes it easy for you to create your drives without much hassle.
There's a lot to like about this app, no matter what type of user you are. However, if you're in for something a bit more advanced, you'll also be pleased to know that it offers more advanced functions.
You can change ISO labels, create CUE, DVD, or MDS files, search for SCSI or ATAPI devices, and perform other functions.
Conclusion
ImgBurn is a popular burning application that provides you with both beginner and advanced tools.