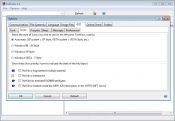 IsoBuster is a highly effective tool for recovering lost files and data that you might have lost, as it will work with different drives, including CDs, DVDs, BluRays, and others.
Damaging your CD or DVD is never a pleasant experience. One of the pains that come with the damage is that you might be unable to retrieve the information you have stored on your disk. Luckily, some great tools on the market might help you with this task very effectively.
One of them is IsoBuster. This application will help you easily retrieve information from damaged or compromised CDs or DVDs.
The newer updates will also support different media types such as Flash devices, media cards, floppy disks, Jaz and Zip disks, local hard drives, and others.
Explorer-Like Interface
When you first open IsoBuster, you'll be greeted by an interface that might remind you of Windows Explorer. And it aims to be as simple and streamlined as possible for all users, thanks to its interface.
You can first try scanning a drive that you have entered into your computer, and then you will see what information it brings up.
After the scan, you will see what data or information can be retrieved. With some drives, you won't get any information, while at other times, you might be a bit more successful at retrieving files and data.
Works with Most Types of Drives
It is highly effective in supporting different drives and types of files. It includes floppy disks, media cards, Flash devices, local hard drives, and others. It will work with most CD and DVD types and with many other drives you might be using.
You can also use the application with built-in software like Nero, Pinnacle, or Sony.
Conclusion
IsoBuster is an effective tool for retrieving data and information from damaged or compromised drives, such as DVDs, CDs, or other drives.