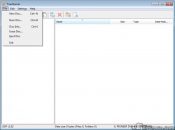 True Burner is, as its name suggests, an application that will enable you to burn files to your disc and create disc images, multimedia discs, and bootable discs and rewrite them.
True Burner can become your go-to option when you have to manipulate the discs you have. It's the tool that will enable you to burn files to your disc, create disc images, create multimedia discs, bootable ones, and rewrite or delete content from your disc.
This tool will offer you a variety of features.
It's highly versatile and prevents the need to have several applications installed to perform the same functions as this single tool. It's easy to use and appropriate for beginners, too.
File Manager
To start with, let's take a closer look at the interface. In the main window, you will see the main panel with the files you are selecting, while above this window, there will be the functions you can choose to do various tasks.
You can burn files, create new discs, create folders, rename them, and delete files from the disc.
As such, it contains a built-in file manager that allows you to rearrange the contents of your disc, and you'll be able to insert data and files that you want easily.
It makes the main user interface relatively easy to use.
Create Multimedia Discs, Burn Them, and More
This tool's main functions are to help you create multimedia discs and burn them without problems. The app works smoothly, and the burning times are quite quick, although that will depend on your PC.
You can also verify the written files on a disk, giving you a better idea that the files on the disk are working.
Another useful function here is deleting the files from rewritable disks, which will come useful when you want to rearrange files on the disk.
Conclusion
True Burner is a complete application for editing and managing your disks, making it easy for you to create and edit multimedia disks.
True Burner features and benefits:
Burn standard and multisession CD/DVD/Blu-ray discs
Burn bootable CD/DVD/Blu-ray discs
Burn MP3 discs and DVD-Video
Check written discs for errors
Erase rewritable CD/DVD/Blu-ray discs