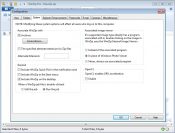 WinZip is one of the world's largest applications for compressing files, decompressing them and encrypting files, backing them up, and providing additional features and functions for file management.
WinZip is one of the longest-standing and oldest applications for compressing files. It works with the famous 7zip format, which is very commonly used for compressing and decompressing files, but this application can be much more than that.
It can be used for encrypting files and backing them up and additional features that might come in handy for users.
Easy and Simple
It goes to show how important ease of use can be in an application. It has a rather simple interface, but that doesn't mean it's not a great app to use. Despite that, it is very simple to use and quite straightforward, one of the biggest reasons people still gravitate towards this utility for file compression.
It also has fast processing speeds, far superior to the speeds of many other competitors' speeds.
You can choose the compression rates and types yourself, where you can set the speed of compression if you want to save your computer's resources – and if you need to do it as fast as possible, you can use the super-fast mode.
Zip and unzip fast, encrypt your files with the latest AES methods, share everything on Facebook, Twitter, or LinkedIn, and make the most of ZIP technology while converting text files to PDF. Box, SkyDrive, CloudMe, Google Drive, and Dropbox are all supported by this compression tool.
Compression, Encryption, and More
The main task most users will be doing with WinZip is compression and decompression of files. To do that, you can select multiple files that you can compress and create a 7-Zip file, which will enable you to save space and send files to other people easily without compromising on the quality of the files. Of course, you'll also be able to decompress files of the same type.
What is more, some additional functions include encryption of the files, as you'll be able to set the password for one of the files you compress, and backing up files is also possible with this tool.
Conclusion
To conclude, WinZip remains one of the best and most user-friendly compression tools in the world, which is why it's so widely used.