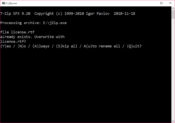 jZip is a useful compression and archival tool that will allow you to compress and manage files of all types, including ZIP, RAR, TAR, GZip, 7-Zip, and others.
File compression and archiving are useful when you want to save space and ensure that your files are neatly organized. It is also useful to ensure you save space on your computer and increase your computer's working speeds.
To do that, though, you'll need the proper software.
With jZip, you'll be able to archive and compress files, allowing you to make the most out of your files, compress them, and manage them in a user-friendly way.
It supports various file extensions, including RAR, ZIP, TAR, 7-Zip, and others. It allows you to work with many different file types.
Simple and Organized Interface
When installing this application on your computer, you might want to pay attention to the installation process if you're only used to clicking Continue.
This time, you'll be asked to make additional downloads, which are optional, but you have to disable them manually before they are downloaded, so pay attention to that.
The user interface is made to be simplistic and accessible to almost all users. It has a neatly organized set of features and file management tools, where you'll be able to quickly add files to the application and compress them and use other file management tools.
File Archiving and Management Tools
With jZip, you'll be able to compress and archive files to save space and speed up processes. You may sort the files you're working with according to size, type, name, and ratio.
You can also password-protect files and ensure they're only accessible to certain users. There are also more advanced settings inside this tool.
Conclusion
jZip is a handy archival and file compression tool that will help you manage tools and save space.