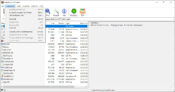 You can archive your files and extract them with the help of WinRAR, one of the best and fastest archiving programs currently available that also includes several other features to manage your files.
If you're looking to compress and archive files and extract them, you'll do well to find a better program than this utility.
This application has become one of the top apps in its range, as it supports various file types, including RAR, ZIP, CAB, ARJ, LZH, TAR, GZip, ISO, UUE, BZIP2, Z, and 7Zip.
Compress and Save Space
One of the main reasons why compressing files is so popular is because it helps you save large portions of your hard drive space. Even larger files can be archived and compressed into smaller files. With this application, you can compress them into a single, smaller file.
Or you can choose a different approach where you can compress them into several small files.
The latter approach's great thing is that you can save your files over several smaller volumes, which allows you to save them across multiple devices and hard drives.
Also, this method allows for easier sending of these files, as you'll be able to send them to your colleagues or friends or upload them to the internet much faster.
Advanced Compression Options
In addition to the basic compression options, WinRAR is well known for its ability to offer you several more advanced features, too. For instance, you can easily protect your archives using password protection, which adds a great safety layer if you don't want everyone to see them.
You can also verify the files' integrity before compressing, ensuring the compression goes smoothly.
You can also use some more advanced settings to fine-tune the compression process. With WinRAR, you'll be able to use your preferred compression method.
At the same time, you'll also be able to set the dictionary size, alter update nodes, manage self-extracting archives, recovery records, and archive locking.
Conclusion
WinRAR is a great tool for compressing and extracting files of various formats easily and reliably.