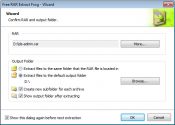 RAR Extract Frog is a lightweight and simple tool for extracting RAR archives with ease and choosing the extract's location with ease.
RAR archives are still highly popular among computer users. That is because they enable you to save a lot of space by compressing files into RAR archives, which is great for transferring the files to other users.
It's also an easy way to compress large files that take up a lot of space on your computer and save space while also extracting them quickly.
It's a lightweight extraction tool for RAR files, allowing you to extract or archive files in a few seconds.
You can also do that by simply dragging and dropping files into the interface, which means it's easy to use and quick to extract and archive.
Compress and Extract RAR Files
It, as the name suggests, is meant for extracting RAR archives. Working with this tool will be easy since you'll have some quick and painless ways of extracting your files and archiving them.
Perhaps the easiest way is by dragging and dropping the files you want to extract or archive. Another way of doing this is by right-clicking on the file and hitting the extract button, or simply by double-clicking the file you want to work with.
The process should be quick and quite easy, even if you're not experienced.
Protect with Passwords
RAR Extract Frog is a useful tool if you also need a way of protecting your files. For example, you'll be able to set up passwords for your files, which is especially useful if you don't want other people to have access to your files.
You can select which files you want to protect with passwords and provide ways of extracting files or compressing them.
Conclusion
RAR Extract Frog is a simple and lightweight application for extracting files or compressing them, providing you with a quick and easy way without having a lot of knowledge about these tools.