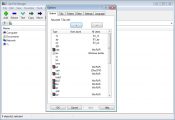 7-Zip is an Open Source compression tool that works best with 7z format archives. Whereas the highest compression ratio is ensured with 7z format, results are depended upon the data type being archived. In addition to this, the 7z compression format ratio is up to 70% better than the zip compression can provide.
Archiving files is an easy way of preserving space. It helps you store larger files and convert them into smaller files temporarily so that you can unpack them later on and use them again – and save a lot of space at the same time.
That's why many archiving and compression programs have been developed in the last few years, but 7-Zip is still one of the best ones.
It's an easy to use application that allows you to compress and unpack archives quickly. It offers superior compression ratios and leaves your files largely intact, allowing you to keep your files' integrity while also saving a lot of space.
If you're looking for a good extraction and compression tool, then you should check it out.
Supports Most Types of Archives
One of the main reasons why 7-Zip is such a viable tool for most users is that it offers wide support for many different formats.
Firstly, installing the app is a quick procedure, and it should not take you a lot of time. You can then use it in two different ways: you can open the app and use the main window from there, or use it by right-clicking on the files you want to use it with.
The tool will support most of the main archives and file types currently out there. It includes formats like RAR, ZIP, TAR, GZ, LZH, LZA, ARJ, and ISO. Of course, there's also the default extension of this application, which is called 7z.
Extract and Compress Files Quickly
Another great thing about 7Zip is quick compression ratios. All of the features are smooth, and you should not have any problems with it, even if you're a beginner. The main features are compressing and decompressing files, of course, but the list also includes Windows shell integration, file manager, command line input, and 79 language packages.
You'll save a lot of time with these two tasks, thanks to the intuitive interface.
Conclusion
7-Zip is one of the best archival tools out there, and you should certainly consider it.