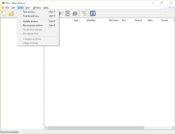 AZip is a complete tool that helps you work with archives, as you'll be able to create archives from scratch, work with existing ones, encrypt files and archives, and more. Managing your ZIP archives is no longer a difficult task.
Archives are a great way of saving space on your drive and keep your files safe at the same time. It also makes it easier for you to send files to other users much easier, and compress larger files into just one archive. But you need to have an archiving tool to help you out.
It is one of those tools that can help you with all tasks related to archives. It is not particularly a well-known application, but the good thing here is that it has all the features you'd need from such a tool.
It's friendly for beginners with the drag-and-drop interface, and it's also quite fast to work with.
Simple Interface and Great Archiving Capabilities
One of the biggest advantages of AZip is its simplicity and friendliness to many users. It has a drag-and-drop interface, allowing you to add files to the interface you want to work with.
After you have selected the files you want to work with, you can create an archive in just a few seconds, depending on the size.
You can also use this app for other tasks that involve archives, such as the decompression of archives and other tasks.
You'll be able to work with both larger and smaller archives, as we have encountered no major problems when using this app.
Encrypt Archives and More
We should also talk about additional features with this app, like the ability to encrypt your archive and protect it so that no other user can access it.
But there are not many advanced functions inside the app, at least when we compare it to other similar apps that you'll find out there.
Conclusion
Even though it doesn't have some advanced functions, AZip is still a great, complete tool for working with archives. It has a simple interface, making it easy for beginners to use it as well.