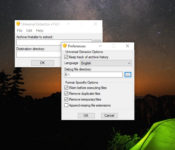 Universal Extractor aims to help you extract the archives that you own, no matter in which file type format you have them.
As the name suggests, this application aims to bring you an easy way of extracting different types of file formats with ease.
It will support almost any type of file that needs to be extracted, including RAR, ZIP, 7Z, EXE, TAR, NRG, ISO, DLL, and several others.
Versatile
One of the biggest advantages of Universal Extractor over other extraction tools is its widespread support for file formats. It will support some of the most common formats for extraction, including RAR, ZIP, 7Z, EXE, TAR, NRG, ISO, DLL, and others. In addition, it means that extracting will be easy no matter which type of file you have.
We should also mention that this tool is strictly dedicated to extracting archives and not compressing them.
You should know that when you use this tool, you won't be able to create archives with it. As an extractor, though, it does its job brilliantly and is one of the best out there.
Lightweight and Simple
Extracting files and archives with this app will be a breeze. While you will not be able to batch decompress files, you'll see that it integrates nicely into the File Explorer menu, making it easy for you to get going with the decompression straight from the menu.
The main interface of the application thus is not complicated at all. It only has two visible fields: one is for the source file, and the other is for the extraction destination folder.
It's thus very easy to use, and you don't need to be an expert to start using it. What is more, extraction can be done quickly by accessing it from the File Explorer menu.
Conclusion
Universal Extractor does what its name says – it will help you extract files of different file types, including all of the most commonly used ones. It's lightweight and easy to use, as well.