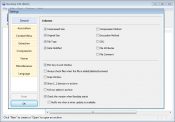 Bandizip is a fast and effective compression and decompression tool, enabling you to archive, decompress, encrypt, and work with various file types and perform several actions.
Compressing and decompressing files and archives is an important task, especially if you want to ensure that you preserve the space on your computer without compromising the quality of your files. That's why many users use professional archival and compression tools, which feature widespread support for file types.
It's an effective and lightweight tool for compressing and decompressing archives, enabling you to perform various actions with your files.
In addition, the tool supports encryption of archives, integrity checks, context menu integration, and support for different file types.
Supports Various Types of Files
Bandizip is a versatile tool that enables you to work with many different archive formats.
Some of the most commonly used formats that you can work with include archive files such as ZIP, RAR, CAB, 7Z, and LZH, as well as UNIX file types like TAR, GZ, TGS, LZMA, CD/DVD file types like ISO and IMG, as well as other types.
Create New Archives, Decompress Them, and More
it is one of the most versatile compression and decompression tools that you can use. It offers support for both the compression and decompression of files and archives.
Moreover, you'll also be able to perform various actions with your files. You'll be able to choose the output destination of the archives you've created.
You can easily create new archives, rename them, split them into multiple files, protect them with passwords, and ensure that they are configured properly according to your needs. In addition, the app offers some of the most widely used tools to help you work with files.
There are many advanced tools for advanced users, such as changing file associations, context menu integrations, and much more.
Conclusion
Bandizip is a neat and versatile tool for archiving files, compressing them into archives and decompressing them, and using various tools you can find inside the app.
Bandizip features and benefits:
Supported formats: Zip(z01), ZipX(zx01), TAR, TGZ, 7Z(7z.001) and EXE(e01)
Unpacking only supported formats: RAR(part1.rar, r01), ACE, ALZ, APK, ARJ, BH, BZ, BZ2, CAB, EGG, GZ, J2J, JAR, IMG, IPA, ISO, LHA, LZH,
LZMA, PMA, TBZ, TBZ2, TGZ, TLZ, TXZ, UDF, WAR, WIM, XZ, and Z
Supports unicode

Bypass the bad compression files
Extract the files to the destination folder directly
Create self-extracting file (.EXE) and multi-volume (split) archives

Archive encryption using ZipCrypto and AES 256
Create or extract multiple zip files simultaneously from Windows Explorer