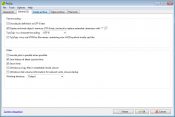 PeaZip is an application that helps you save space by allowing you to compress files and convert them into ZIP files to save space. It also brings a whole host of useful features to you.
Providing files in compressed formats is a common theme nowadays. It's useful because it's often safer than sending individual files. You will be much safer when you send files in archives because there will be no unwarranted software intrusions.
There are many tools to help you compress files into archives, but PeaZip is one of the best ones in this regard. It is one of the safest and quickest compressors you'll come across on the internet and is also reliable.
Simultaneously, it has advanced tools to help compress and convert even more complicated file formats.
Easy to Use and Intuitive
First, we must mention the interface and the look of the tool. PeaZip is an intuitive tool that comes with a beginner-friendly interface. It's also a modern interface, so you won't have to scramble around long before finding your bearings. In the upper toolbar, you'll find all the tools you'll need to get going with your work.
When you open this tool, you'll notice it looks like a File Explorer window. It's based on File Explorer, although it's significantly different in a few aspects. You can browse through your computer easier to find files you're looking to compress.
All the tools you'll use are arranged in a neatly organized context menu to make the tool even easier.
Basic and Advanced Compression Tools
With PeaZip, you can specify the entire process down to a T. For example. You can define exactly how much space you're willing to save. Also, you can set how many resources you are ready to allocate to this software.
It works quite quickly, but it's also hungry on resources, so you can select to use fewer resources, or you can select to make it work faster if you run it in the priority mode.
Along with the basic compression tools, this app also comes with some advanced tools. Compressing files is easy, so you'll need to use the main window to easily import the files you want to compress. There are additional options for file management, including cutting, copying, pasting, and creating new folders.
You can convert and change images quickly to touch upon the details before you finally compress the images. Overall, it has a very nice interface with advanced tools that make the compression process feel sophisticated.
Conclusion
PeaZip is one of the best compression tools on the market. It comes with basic and advanced tools for compressing your files and images, which work quickly and make the process quick and painless.