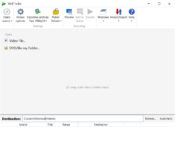 VidCoder is a free tool that helps you transform your MP4 videos into the MKV file format and rip your DVDs and Blu-Rays easily in batches to have your video files in your preferred format.
It will also help you transform your DVDs and Blu-Rays and rip them in batches, which allows you to have many files and video formats you want to convert or rip.
Operating this tool is very easy, and even if you're a total beginner, you'll be able to get a lot done with it. It comes with a very intuitive and somewhat simple interface.
By using the simple drag-and-drop feature in this tool, you'll be able to choose which files you want to change easily and transform them into other formats.
Simple to Use
This tool is created to be used by anyone. It will serve you very well if you want to make changes to videos, transform them into other file formats, or make simple changes.
Of course, the main purpose is to create MKV files from the MP4 files you might have on your disk. It will also help you rip DVDs and Blu-Rays quite easily. But some even more advanced tools make this application a complete one.
Advanced Editing Tools
The application allows you to add or remove subtitles from videos or larger video files. You can add subtitles if they are in the SRT format quite easily.
You can also configure some dedicated parameters for the videos.
Cropping the clips is also possible, providing you with a complete suite of tools and features to alter your videos.
Conclusion
VidCoder is a simple and intuitive application that you can download for free. It will help you change your MP4 files into MKV files, but it also has many editing tools to alter videos easily.