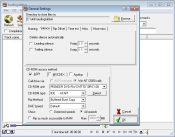 With Audiograbber, you can grab songs from your CD and normalize the sound of the songs, allowing you to delete the parts of the songs you don't like and more.
If you have a CD and want to extract the music from the CD to your computer, you might struggle without the right tools. The good thing is that many different ripping software applications help you get the job done and have amazing-sounding music simultaneously on your computer.
You can use an application like Audiograbber to help you complete such tasks. It is designed to help you extract music from your CD and have it on your computer.
At the same time, you'll also be able to edit the music you extract, giving you even more freedom regarding how your music sounds.
Ripping Made Easy
It is an easy application to use. It has an intuitive interface to freely select which songs you want to rip from your CD.
After choosing the songs you want to rip, you'll be presented with another window where you'll be able to define the features and the settings behind the ripping.
For instance, you'll be able to normalize the songs you rip. You can choose the peak levels of the song, average output of the song, maximum compression, and other settings before you can get started with the ripping.
You can also select which file types you choose to have after the ripping has been completed.
Fast and Efficient
Another highlight of Audiograbber is that it works quickly and effectively for ripping music from your CD.
It will take some resources from your computer, but it will act quickly, even for the larger files, while maintaining the quality of the song you decide to rip.
Conclusion
Audiograbber is, in conclusion, an excellent tool that you can use to rip music from your CD to your computer quickly while also being able to customize it.