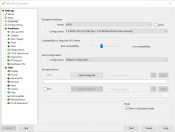 If you find yourself wanting to be able to emulate your old Commodore computer, then it can be a challenge. After all, this is a fairly old technology. Still, there are ways to accomplish this. WinUAE is such a program.
It offers a comprehensive list of features and helps you revive ancient computers in a modern-day environment.
Easy Installation
It doesn't take much time to get up and run. A few clicks, and it will fire up almost right away.
Once you launch it, you'll need the right ROM file. You can add this from the config panel, which is fairly easy to find.
From here, you'll also notice a lot more options. You can tinker with the whole machine, including the hardware.
Configuring the Emulation
WinUAE provides support for various computer types and CPUs. It gives the user greater control over that emulation and cache. The chips it uses can be customized as well.
You can emulate a floppy, a CD, or most other drive types. It makes it stand out amongst other emulators. Some can do more than one type, but very few can emulate at that level.
Setting Up Your Computer
You'll need to go into the settings first. Then, configure your display and make sure the sound system is connected. You can also specify different gaming ports.
It includes mouse and keyboard support. At this time, trackpad support is not offered on this version.
Conclusion
Being able to emulate changes your computer experience. WinUAE does a great job of having what you need for solid emulation. You can use older hardware and still get great results. It seems to have been developed with the end-user in mind.
With plenty of tools, menus, and features, we think you'll find it a welcome addition to your Windows setup.