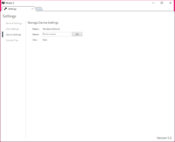 Modio has been specially designed to facilitate the XBOX 360 gamers access to the saved games from their computer and transferring these games from one storage to another.
The newest games nowadays are getting buggier in volume due to the convoluted logic inside and high-quality graphics. However, Modio can easily handle the saved files your favorite games whether it is GTA V or Tomb Raider without any effort.
Step by step, instructions are provided on the screen, which if followed, will lead to the desired results.
You can even change your games in the offline mode and then covert your saved changes to the online mode on the console to enjoy the game in a better way.
This application also allows you to save your files by your trend of playing games and recent usages of a particular game. This feature makes it easy for you to find the latest version of the game saved and produce the desired changes in it.
Modio is a beautiful tool for the gamers of XBOX 360, which makes the saving of games, transferring saved files and cheating in the game a lot easier.