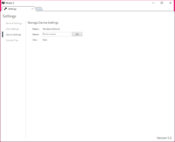 Do you have an Xbox 360? Then you can control all of your games straight from your computer using Modio, an application that helps you save your game save files to almost any drive and keep it safe from potential crashes.
Xbox 360 was a highly popular console. However, one of its shortcomings was that it didn't yet use cloud services – which is understandable since those services were not quite ready yet. It meant you had to save your game files to a drive on your Xbox or risk losing them.
However, today, this problem is solved by Modio. It is a lightweight application that helps you control and manage your games from your computer. With it, you can manage and modify the files inside the games – even the most popular Xbox 360 games.
It means you can modify several game files but, more importantly, access and save your saved game files to another drive.
Modify Your Game Files
It provides support for almost any game that's available on your Xbox. It includes the most popular titles, such as GTA5, for instance. That way, you won't miss an application or popular game.
With this app, you can modify game files and alter them. Accessing the game files allows you to create an entirely new experience.
Of course, this takes some computer skills, but you don't need to use Modio to change the files. With it, you can start adding experience points to your game or other small things such as ammo.
Manage Your Saved Game Files
But perhaps more importantly, it provides you with an option to manage your game save files effectively. You can download and save them to your favorite location, giving you more control over these files.
Conclusion
Modio is a great tool for Xbox 360 lovers. It gives you options that other tools don't, and you can also save files easily without risking losing them as you have them on your Xbox.