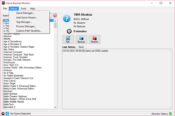 Create backups of your saved games from your favorite games with Game Backup Monitor, which can also be a useful application to use when you want to access your saved games and ensure they're safe.
Playing your favorite games is a great way to spend your free time, although one of the main problems might be losing your saved games if you come back to the game after some time. It can be especially frustrating since you lose all of your progress, even if you use Steam or Origin, which use cloud saving.
To solve this problem, you can create backups of your saved games with an app like Game Backup Monitor. This app is designed to help you make sure your backups are safe on your computer and ready when you want to access them again.
It will also track your playing time and ensure your backups are stored safely anywhere you might have them.
Configure it Easily
Before you start using this application, you might want to ensure that you configure some of its parts before creating backups. As you will see, this will be relatively easy as you'll easily make changes to your interface. The app's installation should not be too complicated if you follow the process.
Moreover, you will see that the app will instantly recognize all of the games you have on your computer. It will detect your installed games, making it easier for you to make the necessary changes later.
You can always add new games with the nifty wizard that's available inside the interface, too.
Backup and Store Save Games
This application's main role is to help you ensure the backups you create for your favorite games are safe. You can back up your savegame files if something goes wrong when you try to save them and lose them in one or another. These backups can then restore your saved games and start playing again.
With the Game Manager inside this app, you can keep track of your games and progress with them and set up filters for the files you have stored locally. Another thing we must note with this app is that it will also work with cloud-based save games.
You can customize each backup you create, as you can change the backup's name, alter the backup size, and even verify files before using them to make sure they're proper.
It also comes with a folder syncing option, which is useful when you save files stored on a cloud drive.
Conclusion
Game Backup Monitor is a great tool to make sure you back up your save game files and that you're able to play your games without losing saved files.