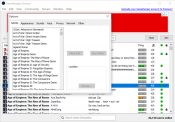 Want to play video games with friends and opponents online from all over the world? GameRanger is an application that allows you to connect with friends and find servers where you can play against each other.
It is a free-to-download application that lets you play more than 700 games online where you can compete with friends and opponents from all over the world. The app also has several features like live chat, user profiles, friend groups, communities, and instant messaging, which can make the whole gaming experience unforgettable.
Longest-Running Online Gaming Service
It has a very long history of providing a platform where gamers and friends gather to play games together online. As of now, it has more than 6 million registered users on the app from all over the world, which are also real users who use the app regularly and daily.
Compatible with Many Older Games
It has a pedigree of serving the community of gamers who love old-school, classic games that seem to have been forgotten over the years by the mainstream gaming community. Many of these old games are impossible to play nowadays without an application like GameRanger. However, it is these games that allowed gamers to fall in love with gaming in the first place.
In the supported games that this app supports, you'll find an impressive library of some of the best games ever made. The library includes games like Age of Empires 2, Call of Duty 4, Need for Speed: Most Wanted, Battlefield 2, Stronghold, Worms World Party, Call of Duty 2, Battlefield 1942, Heroes of Might and Magic, and many other similar games.
Impressive Features
Along with an incredible lineup of games, the application also has several features that enhance your gaming experience. This includes features like chat rooms, game rooms, voice communication, personalized profile, buddy lists, instant messaging, and more, which creates a real sense of community.
Conclusion
GameRanger is a popular app for gamers who want to play old-school games online with friends and opponents from all over the world. Download it now for free and relive the gaming classics now.