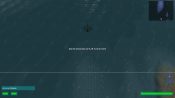 Firehawk is a shooter in which you must play as a mercenary helicopter. The controls will be based on the mouse and the keyboard, and you will have the chance to play in single-player mode and two players in cooperative mode.
This mode will be available by using LAN, and it will be easy to fly across four different environments and choose a variety of weapons.
You can make upgrades to your helicopter to suit your play style. It will be possible to fight against various air and sea-based enemies. You will need to get used to the settings of Firehawk because they will be quite complicated to understand.
You will have a particular gun you can shoot from the helicopter. This weapon is used every time you need it. When it comes to this game, it will be hard to change settings because it is quite old and may cause you trouble. It is quite hard to play the game, and the enemies will give you more damage than you do to them.
There are chances that you won`t like this game, especially if you are new to shooter games, but as you play it out, you will get used and understand how it works. You won`t be able to change settings to fulfill your needs because it is an old game with fixed parameters.
You will like the action in this game and see that the music is relaxing if you want to play it out. The sounds of shootings and explosions are very realistic.
As you make your way through the game, you will see that buildings suddenly start shooting at you. Most gamers won`t be able to beat this game because it is tough, and only three continue, but you can try your luck with it.