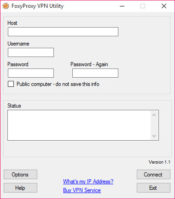 Are you looking for a fast and reliable proxy network that can be accessed in various geographical locations? It would help if you considered FoxyProxy for this purpose, as it provides users with a wide range of proxy management tools.
Unlocking the World With the Ultimate Proxy Management Solution
The IP addresses of 96 different locations can be accessed through FoxyProxy. Additionally, you can access this application with the guarantee of efficient working from all these locations. Six different ways to connect to the network as a proxy are provided to the users, one of the best features of this application.
The application protects against dubious users, fly-by-night operations, and shady companies or domains. Apart from private users, it also provides VPN services as well. Such a practice ensures real value for the business.
Some of the basic features of FoxyProxy include the possibility of accessing videos from any geographical location, encryption of internet traffic to save you from hackers and spammers, and access to testing the geographic advertisement campaigns of your business.
You can access it freely because of its open-source nature. So, you can access all the sophisticated features this utility provides without cost.
FoxyProxy is a proxy management tool that enables you to hide your identity and access content without geographical restrictions.
Conclusion
FoxyProxy isn't just a proxy management tool. With its extensive network of IP addresses, diverse connection options, and robust security features, FoxyProxy empowers users to navigate the internet securely and access content from any corner of the globe.
Its open-source accessibility ensures that these benefits are within reach for everyone. It exemplifies proxy management's power, enabling users to protect their identity, unlock geographical content, and enhance their online experience.