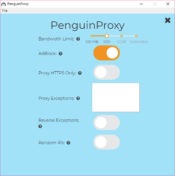 PenguinProxy is an application that gives you the opportunity of safe internet browsing by hiding your real identity. Furthermore, it allows you to gain access to blocked websites.
At the same time, it helps in keeping your identity anonymous, saving you from cyber-attacks and getting tracked by cookies or another kind of spying tools available for getting your private information.
So, if you are looking for streaming channels or videos broadcasted in different countries, then you can use PenguinProxy and enjoy the best and the latest content from all around the globe.
You'll get the end to end encryption on installing this application on your device. The VPN concept used in this solution is decentralized, making the entire network more secure than the interfaces with centralized VPN systems.
PenguinProxy is a great decentralized network based on the end to end encryption to protect your identity.