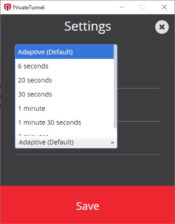 Suppose you're looking for an intuitive and safe VPN option. In that case, you can consider Private Tunnel, which will provide you with tunnels you can connect to access sites that aren't available in your location.
VPN tools have become necessary in today's world. They provide you with some much-needed safety and privacy in a digital world where almost everything might threaten your computer's security.
Not to mention that some internet sites collect information about you, while some sites are inaccessible where you might live.
It is an SSL VPN tool that brings you safe, SSL-certified connections. It means that you'll be able to access sites that are not available in your location, as well as some services that might not work fully in your location.
All the Advantages of VPN
PrivateTunnel brings all the advantages you'd expect with a VPN tool. For instance, you'll be able to connect to a remote server, so your connection remains hidden, which means you'll be able to use a different IP address than yours.
It allows you to use sites you wouldn't otherwise be able to.
Moreover, you'll also secure your connection, which is handy, especially if you're using a public and insecure connection, for instance.
It will be useful to ensure that your files and computer stay safe as you use the internet.
Create an Account to Get Going
Using Private Tunnel is quite simple. First, you'll need to create an account using this tool to use all the features.
You'll need to come up with a username and password, ensuring that you can log in and start using the app's features. After that, you can start making connections.
Conclusion
Private Tunnel is a great VPN tool that brings safety to VPN, as it enables you to have SSL-certified connections, which ensures that your information is not compromised.