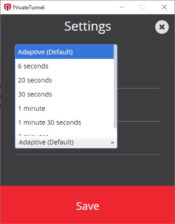 Private Tunnel gives you the chance to stay secured by offering access to the world wide web without the need of having to fear that your data is in danger of being exposed.
This tool is used to protect and also to defend your data, and it is used for business and even for personal security. Keeping your connection secured is a critical thing whenever you are at work, traveling or at home.
You always have to know that your connection is encrypted and your IP address is anonymous, and this is why it is essential to make use of this VPN. By doing so, your network and your devices remain secured and defended, and no one can access them.
You stay secured whenever you surf on the web, so you see that your private IP is going to be encrypted.
PrivateTunnel is also a solution when it comes to DDoS attacks because this is the moment when your network is vulnerable. You have to protect your devices against these attacks. This solution prevents more than one million cyber attacks per day, so this is the reason why you should secure your connection.
You can connect to any servers around the world, and you can make use of unrestricted access to websites and also information. No one knows your identity and your data or connections remain private the whole time.