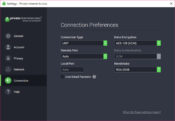 Make your network and your internet traffic secure using Private Internet Access, which will help you connect to a Virtual Private Network, allowing you to browse the web securely without exposing your information.
VPNs are very popular nowadays because they protect you from potential hackers and spammers online, and they will also protect your data from being collected.
There are many different choices today, and you will be able to choose from a wide range of features when you want.
Private Internet Access is another of VPNs that offer you a secure performance. It will help you connect to a remote network of your choice, which will provide you with a safe connection and enable you to protect your traffic, hide your real information, and access some websites that aren't available in your location.
Advanced VPN Features
Private Internet Access looks primarily like a usual VPN tool, but it does have some additional functionalities that you won't find on other VPNs. For instance, it will offer you DNS Leak Protection, which will prevent your data from being leaked.
Then there's also the VPN Kill Switch, which will allow you to connect and disconnect VPN connections quickly.
To start with your connection, you will have to decide which type of connection you will use. You can either select UDP or TCP connections, which will allow you to choose from remote and local ports whenever you want.
You can also disable or enable port forwarding, which is useful for some users too.
Configure Your Connection
What is more, you'll also be able to configure your connections and make sure that your encryptions areas are configured as you want them to be.
You can choose from various algorithms if you want, including AES-128, AES-256, Blowfish, or none of the above mentioned. You can also use multiple authentication options if you wish.
Conclusion
Private Internet Access is a powerful VPN tool that will allow you to search the web safely and securely without having to worry about data collection and spying on you and access some sites that you want to access.