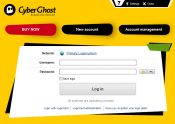 CyberGhost is a VPN client that blocks the ISP from blocking, slowing down, or even seeing your passwords, bank accounts, e-mails, downloads, uploads, and torrents. IP addresses are changed so that it would be virtually impossible for the ISP or for a website to locate you on the map.
Another advantage is the possibility of seeing content that is not available in your country by logging in to one of the client's servers from the respective nation. Go anonymously on any network, including WLANs and hotspots.
The good thing is that you don't need advanced computer knowledge to work out how to use this tool. You only have to download, install, and log-in to a connected server.
CyberGhost VPN features and benefits:
surf anonymously online

128-bit SSL encryption
surf securely when using public WLANs and hotspots
supports all PC Internet connections (WLAN, Internet caf©s, UMTS, DSL, ISDN, modem)