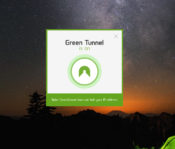 Green Tunnel lets you bypass ISP restrictions while trying to access different websites. The app will run in the background, and when you try to access a website, this utility will circumvent the DNS Spoofing using DNS over HTTPS and DNS over TLS protocols.
Nice Tool to Give You Access to Any Website
Green Tunnel can best be described as a tool that will help you make sure you access websites that your ISP might block. After installing this application on your computer, you will be greeted by a small window, which acts as the main interface for the tool.
The GUI is not a convenient GUI but lets users know whether the app is on or off.
Some servers are configured to block websites you might try to access. These blocks are put forth by your ISP that might block certain URLs that try to send requests to the DNS to look up the website and allow you to open it.
It results in the fact that the website won't open. That is what you're trying to remove with this application.
Bypass DNS Spoofing
It is called DNS spoofing, and it's typical when the DNS doesn't give the information about the URL, and thus the website won't open.
It happens when your ISP blocks a certain website that you won't be able to view. This software solves that problem and lets you view the website even if it's been blocked.
Conclusion
In short, Green Tunnel can be a handy app for anyone who wants to access certain websites that their ISP might block.
It will help you access websites that are unavailable in your location.