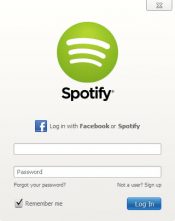 Spotify takes you to the world of music you like anytime you want. Advertised as the soundtrack of life, this is the player who works on the computer, on a tablet, Android mobiles, and home entertainment systems.
Music can be listened to online or downloaded for offline moments. With search and browse options, you discover new music every day, and you organize it in playlists/collections for all moods and moments.
Moreover, everything is social so that friends and colleagues find out what you like more. And when you had enough of playlists, you can turn to the radio again for free.
Spotify features and benefits:
Spotify works on your computer, your mobile, your tablet, and your home entertainment system
Choose the music you love, or let Spotify surprise you
Build your collection

Share music on Spotify, Facebook, Twitter, your blog
Enjoy Spotify radio