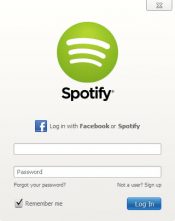 Spotify takes you to the world of music you like anytime you want. Advertised as the soundtrack of life, Spotify is the go-to app and platform for those who want to listen to millions of songs, podcasts, and audio files from a large online library, enabling you to listen to them without downloading them.
Cloud-based audio applications have been the go-to for many audiophiles who want to listen to music without downloading or buying it.
It has been around for more than ten years and has hundreds of millions of users worldwide. It's a great way to access DRM-protected content and audio files instantly from anywhere without using storage.
User Friendly
This tool is primarily known as a mobile app, although you can also use it on your computer through this application. Just download it and sign into your account, or create a new account if you don't have one yet.
You can create one with your social media accounts, too, or you can create one from scratch completely.
Play Songs, Podcasts, and More
Once you're signed in, you'll be able to view the large library of files available. It features an elegant and modern black theme where you can browse for songs easily.
At the top of the app, you can search for songs and podcasts. But you can also search by categories, which some people will find useful.
It offers full customization if you want. You can create your playlists from the songs you like. Although that can take time, you also might need a subscription to use this feature.
Then, you can also access some pre-made lists and playlists, which can be useful if you want to listen to some music quickly and pain-free.
You can also listen to any radio station with Spotify if you want. There are many options for using this app, allowing you to have the freedom of choice.
Conclusion
With Spotify, you can listen to millions of songs, podcasts, and radio stations, without downloading these files onto your computer quickly.
Spotify features and benefits:
Spotify works on your computer, your mobile, your tablet, and your home entertainment system
Choose the music you love, or let Spotify surprise you
Build your collection

Share music on Spotify, Facebook, Twitter, your blog
Enjoy Spotify radio