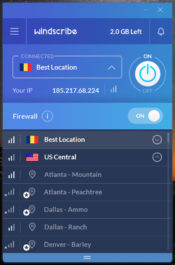 Windscribe VPN is a tool that will help you with your privacy, and you can use it in any situation without any problem. This tool's protocol and encryption options are reliable, and many appreciate it. This solution will offer the users the protection they need, and more than 600,000 people decided to trust this tool.
Windscribe VPN is also user-friendly, so it will be easy to use. You will also see that this tool allows you to take advantage of torrenting, which you will probably enjoy.
It also goes through the Netflix block, meaning users can easily access it without issues. It will be a secure tool that will work well in many situations because of the encryption spectrum that this one offers.
No one will ever spot what you are doing online, and thankfully this tool has some specially designed servers for people who want to use Netflix to watch their favorite series. This tool also says that it won't use your data. You won't have to deal with any leaks.
You will be able to try out Netflix using Windscribe VPN, and you will manage to view all of your favorite shows and movies.
Another thing when it comes to this one is the fact that torrenting is allowed. This tool creates an impenetrable tunnel around your internet to keep it safe.
Torrenting means that you can download from the web your favorite movie or show you want to watch, and you won't have problems doing so because this tool will cover all of your tracks.