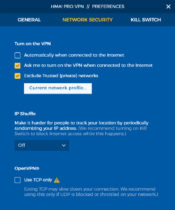 Stay hidden online and keep your privacy with HMA! Pro VPN, a VPN tool that will also enable you to visit some websites that might be blocked in your location.
VPNs are becoming more and more popular with users who browse the internet. There are also more and more restrictions on which sites you can visit and the ones you can't.
These restrictions are also made based on your location, and in that case, there is not much you can do to bypass the limits other than using specialized software.
One of the more popular cross-platform VPNs is called HMA! Pro VPN. It is an effective and powerful VPN that comes with all the features you'd expect from a VPN tool.
It will help you hide your real IP and stay hidden online, as well as visit some websites that might be prohibited in your specific location.
Choose Your Location
Once you first install the HMA! Pro VPN on your computer, you'll be able to immediately connect to one of the many servers that are offered inside this application.
You will be able to access a great number of locations through the vast variety of servers offered by this VPN. It helps you stay hidden and make sure that you're protected all the time.
The application is also straightforward to use. You'll be pleased to know that the interface is designed for every user, including real beginners utilizing this application for the first time.
The interface is very simple: all you have to do is sign into your account, pick the location you want to connect to, and start your connection.
Three Modes of Operation
You'll see that the application has three modes of operation: instant mode, which will connect you to the fastest available IP. Then there's the Location mode, where you'll be able to choose the location. And the Freedom option.
Conclusion
HMA! Pro VPN is an effective and simple VPN solution for all users who want to stay safe online.