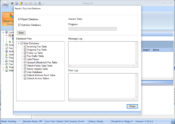 With Snappy Fax, you can easily send and receive faxes from your computer and manage them in one window.
Faxes are still used nowadays, despite their older nature and the fact that many people or companies don't use fax machines anymore.
Today, faxes are managed over computers, and with the help of the right software, you'll be able to send or receive faxes straight from your computer without the need to own a fax machine.
With an application like Snappy Fax, that will become possible. This application is meant to help you send faxes, receive and open them, manage the faxes and your archive, and more.
It also comes with a scanner that will enable you to put images into your faxes, as it will become your main fax application to use.
Send, Receive, and Archive Faxes
You'll see that Snappy Fax will act as your fax machine on your computer. In some senses, it will look similar to an emailing application or provider because it will allow you to open faxes and send them.
It will also enable you to manage the faxes you receive and categorize them, which will help you better organize your faxes.
Another helpful feature of this tool is the ability to archive the faxes you've received and those you're looking to send in the future.
To send your fax, you only need to set up the main things for sending, such as setting up the route and entering the recipient information and address, and you can send your fax quite easily.
Schedule Faxes to be Sent
If you don't want to send faxes immediately, you can schedule them and send them out later.
It can be useful when you're planning to send out a fax, but you don't want to do it immediately so that you have a precise date and time when the fax will be sent.
Conclusion
Snappy Fax is a helpful application if you're looking to send and receive faxes on your computer.