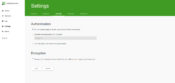 With Unified Remote, you can control your applications on your computer via Android or Windows Phone easily and without a fuss. Nowadays, smartphones have become more than just devices we use to make calls or send text messages.
They have become the center of our being, especially with the full range of third-party apps that only extend the usability of smartphones.
It's a top-rated app for Android or Windows Phone devices that will let you connect your smartphone to your PC and control the actions and applications used on your PC.
Simple and Easy Installation and Use
First, you must install .NET Framework 4.0 on your computer before using this app. It will allow you to connect to your PC via the app. After you've taken care of that, you can install the app for Android or Windows Phones, depending on your phone.
Once you've installed the app, you can connect to your PC via the Unified Remote server. Now you'll be able to make changes on your PC.
These changes include opening your browser and new tabs, navigating to the homepage, zooming in and out, jumping to the previous tab, and reloading the current tab. It supports browsers like IE, Opera, Firefox, and Chrome.
Conclusion
You can take a wide range of additional functions and actions on your PC. These include disabling notifications, accepting TCP and UDP connections, and specifying the port number.
This app is the go-to app if you can easily connect to your PC remotely from your smartphone.
You can browse on your PC's browser easily while not touching it at all. Unified Remote supports various browsers, so you do not have to get a specific browser to put this application to work.