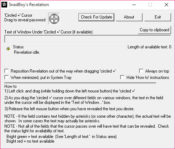 Everyone has had an issue with his password. Either the password was lost or forgotten, we usually have a problem when we are missing a password. It would be a great idea to make use of a tool which helps you in recovering your password.
You can make use of this SnadBoy's Revelation because this tool helps you in getting your lost or forgotten password. It is a small sized tool, and it has some options which can be useful when it comes to recovering a password.
The best thing about SnadBoy's Revelation is the fact that can be used in your taskbar, and it won`t get in your way while using it.
This tool is an excellent choice for users who want to revive their lost password because it works well and has a lot of useful features assigned to it. It has a clear interface which is easy to understand by the users.