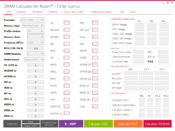 Are you getting the best performance from your PC? With Ryzen DRAM Calculator, you can calculate the best and safest RAM timing for optimized performance. The specialized calculator in the software is made for scanning the RAM and finding its best configuration.
It will help you get more out of your system with this calculation platform that will help you establish how much memory you can use to test your computer and use it safely.
Having a computer gives you much freedom because you can always tweak and improve the performance if you feel you're not getting enough out of your computer. However, with that, there's always the risk that you will ruin your computer.
With Ryzen DRAM Calculator, that won't happen. It is a tool that will help you overclock your computer easier and accurately because it will help you calculate the right clock speeds without damaging your system or any of the components inside. It was designed especially for AMD Ryzen processors and their users.
Overclock Your RAM
This application lets you overclock your RAM modules easily and more accurately. Essentially, it will enable you to calculate the clock speeds precisely to overclock your RAM.
With the computed numbers you get from this app, you will enter the correct numbers into your BIOS to overclock them.
Also, it can do a memory bandwidth test, inter-core latency test, and custom latency test. The new update allows it to read the timing of Zen 2.
You will need to know the right information about your system, such as what RAM modules you're using, what system information you have, and other necessary data that you'll need to complete the calculations.
Easy to Use
Yes, the application might appear slightly more intimidating than it is at first. That's because it has a somewhat complicated interface, but after a couple of minutes, using this and reading the supplementing documents should be enough to help you.
To work with this software, you will first need to obtain details about the RAM in your system. For this, you can contact the manufacturer, use the information on the manufacturer site, or use Thaiphoon Burner to get the necessary data in the calculator.
With the data, you can start the application and type in memory type, frequency, and rank to get the calculations.
You can generate profiles based on the information you've entered, allowing you to start overclocking without any problems and quickly.
Conclusion
Ryzen DRAM Calculator is a simple and effective tool to calculate the right clock speeds for your computer's RAM to help you out when you want to overclock.