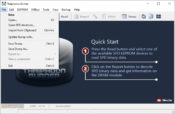 Thaiphoon Burner allows you to display information about Serial Presence Detect, and it will also help you modify the firmware of SPD EEPROM devices.
It is a program that helps users modify the firmware of SDP EEPROM devices and display the information about the Serial Presence Detect. It has a simple interface, making it easy for users to change this firmware because it has a nice and simple layout with clear tools.
It will display even more detailed information that would be hard to view otherwise.
View Detailed SPD Information
When you start this application up, you might want to run it as an administrator to unlock its features. It has a neatly organized interface that will make it easy for users to see what they're doing.
Once you select your SPD from the list of available protocols, you'll be able to see all of the details about it in a separate window. It will show you fast access to the SPD features and specific information, such as hexadecimal code.
You can edit the SPD values and check out the SDRAM capacity, module, organization, and more.
Edit Details
The main role of this application is to help you display the information about the SPDs you have. However, it also has some editing tools that you can use alongside the main mode of operation of Thaiphoon Burner, which can enhance the operation.
For example, you can check the manufacturer's specifications and make changes based on those specs. You can see the part number, architecture, speed grade, clock frequency, latency, and other information.
You can edit the timing table with this app, update Dumps, enhance the XMP, save Dumps to file, and other settings that can be highly valuable.
Conclusion
Thaiphoon Burner is a neat application for viewing SPDs' information and editing their values and various other specifications of these SPDs.