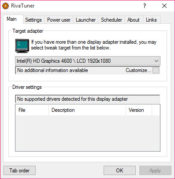 RivaTuner allows you to tweak your video card so that you can get more out of it, providing support for both Nvidia and AMD video cards.
If you're into playing games or editing videos or doing other graphically intensive stuff, then you know the importance of having a strong graphics card.
When you buy one, you'll want to make sure it's performing up to its complete abilities, or else you're leaving performance on the table. Luckily, you can tweak a thing or two and make improvements yourself.
You can do that by using RivaTuner. It is a simple application designed for users to tweak their graphics cards and get more performance out of them.
It will help you manage and fine-tune the settings, as well as make sure that you're getting the most out of your GPU. You'll be able to alter memory speeds and more.
Basic and Advanced Settings
When you install this application, you'll need to know that you'll want to proceed with a good degree of caution. If you're an advanced user, you'll be pleased to know that the app has some neat and advanced tools inside.
However, if you're a beginner, you'll want to make sure you're reading all of the supplementing documents before starting.
Inside the application, you'll find both beginner and advanced settings. You can tweak the memory of your GPU if it offers you the ability to do that.
However, you'll want to make sure that you're as accurate as possible when you do that. And if you're going to increase the memory, you'll also want to make sure that the cooling of your GPU is valid.
Create Custom Profiles
The good thing about this app is that you can create profiles that you can use instantly.
If you want to create a profile for certain games, you can use the profile and start playing the game using your preferred settings in a matter of seconds.
Conclusion
RivaTuner comes with tweaking capabilities that will enable you to manage and change the performance of your GPU to make it as powerful as possible.