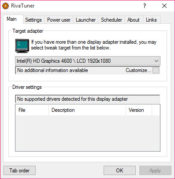 RivaTuner can be a useful application if you need to overclock your computer video card for high-quality graphics while you are playing your favorite games. This application works particularly well for Detonator and Catalyst drivers, which are operating under the Windows.
The application options are divided into five tabs: "Main", "Settings", "Power user", "Launcher" and "Scheduler", each of them having their options.
RivaTuner allows you to make changes in the settings to improve the overall efficiency of your NVIDIA video card. You can get unlimited access for modifying the files that will enable you to get an improvement in the quality of image and compatibility of drivers, including the control for multi-monitor environment and fan speed.