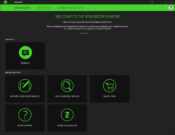 Do you have a Razer device? You can then use Razer Synapse, a decent application designed by Razer to help users customize and configure their Razer devices through a helpful window.
When you buy a new keyboard or mouse, you expect it to work out of the box. However, with some more advanced peripherals, it's typical that you should test and configure it a bit first before using it completely.
Luckily, these mice and keyboards also have advanced applications and windows to configure those settings easily.
One of the more well-known ones is Razer Synapse, which Razer designed to help their users customize and configure their devices.
Razer is one of the most preferred companies for gamers and other users who need top-notch peripherals, and the software behind it is equally as good. This app will help you with configuring your devices.
Manage and Configure Your Razer Devices
When you buy a Razer mouse or keyboard, you'll see that it might come with several additional features, such as more buttons, DPI buttons, and lighting options.
All of that needs to be configured, and luckily, you can set up Razer Synapse to help you with those tasks. This app will help you get an even better experience with your Razer gear.
Configurations and Settings
You can make both simple and more advanced changes to your Razer devices. For instance, you can make simple changes, such as altering the mouse sensitivity.
But you can also change what each button on the mouse does, and you can also change how the lighting works and what it does for you.
Moreover, all the information will be saved on a cloud with your account, so you won't have to remake these changes if you move your mouse to another device.
Conclusion
Razer Synapse is a great option for users as it will help them customize their Razer devices.