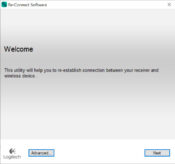 If you own a Logitech G900 product, then you know that you can lose connection constantly, especially if you turn the device off after you stop using it. That cannot be very pleasant, as you need to connect the device every time you turn it back on.
With the Logitech Connection Utility, you'll be able to avoid this problem and keep your G900 device connected to your computer at all times. It is a simple application that requires you to connect a supported wireless receiver to your computer.
It's easy to use, and it solves a problem that's often present with G900 mouse.
Re-Establish Connection Easily
When you first start to use this app, you'll see that it has a wizard-like interface, making life easy for you. This app can be used by multiple users simultaneously, improving its efficiency and making it a great tool for your entire household. It doesn't have a manual, but the good news is that it features graphical instructions to make your life easier.
This application will help you save time when re-establishing the connection between your computer and your peripherals. To do that, you need to disconnect the device, launch the application, and then connect the device and follow the screen's instructions.
That way, you'll be able to configure your device so that it connects every time you use it.
If you click on the Advanced settings button, you'll have additional options at your disposal. Here, you'll be able to make different configurations such as viewing a list of wireless receivers, save your connection reports, and much more.
Conclusion
Logitech Connection Utility is a simple utility app that helps you keep your Logitech G900 connected to your computer at all times. Connect your Logitech G900 wired or wireless device to your computer easily with this application.