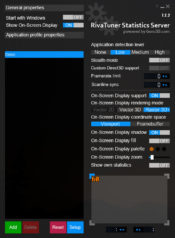 Get the maximum performance out of your graphics card with Rivatuner Statistics Server's help, an application designed to bring you a set of controls that will help you get more out of your GPU.
Tune Your GPU
If you have a powerful GPU, you know that you can't get the right performance out of the GPU without the right settings and configurations.
You'd want to tweak first, which can be baffling, especially if you don't know what you're doing and have the right stats to back your changes up.
That's what Rivatuner helps you challenge. It is a simple application that will provide you with all the relevant statistics for your GPU and enable you to get more performance by making the appropriate changes.
It's lightweight and easy to use and has everything a GPU owner would want.
Lightweight Package
One of the main advantages of the Rivatuner Statistics Server is its lightweight nature. It has a big toolbox that will help you make the changes you want, yet it is still light and not very demanding for your system.
It offers a good balance between performance and requirements, which is great for such an app.
There is an FMS limiter provided in the application. This limiter can restrain you from overkilling your GPU.
View Stats and Make Changes
When you want to manage your GPU, you'll want to see all the relevant stats. And that's what this app is made for. It will show you all the information you need about your GPU, which can help you make it easier for you to make the changes and understand what needs to be changed.
It also offers high-performance encoding in the package, which completes this impressive tool and makes it usable for many users. It's easy to use, and most of the information is also visible in the main window.
Moreover, the game's screenshots can be captured in JPG, PNG, or BMP formats. Video encoding is also managed through third-party software.
Conclusion
Rivatuner Statistics Server provides you with all the stats you need to be aware of when you want more performance out of your GPU.