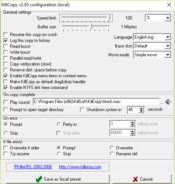 We all know the classic copy-paste method, which we all use on Windows and other devices. There is a specially made tool called KillCopy, which allows you to use copy-paste, but it also adds a few more options that you may find useful depending on what you are doing on your device.
Efficient File Management
KillCopy allows you to move files within your computer or across networks seamlessly and provides valuable insights into the copying process, giving you a clear view of the time it will take for your data to be completely duplicated.
What sets KillCopy apart are its advanced features, enabling you to copy, overwrite, and perform other tasks, such as customizing the copy order by skipping specific files or renaming files on the fly during the copying process.
One notable advantage of the application is its resource efficiency. It won't excessively burden your CPU or RAM, and you won't encounter any error messages during use. Its user-friendly interface makes it accessible to users of all levels of expertise.
In Conclusion
KillCopy is more than just a copy-paste tool; it's a versatile file management solution that streamlines your tasks and enhances productivity.
Whether a novice user or an experienced professional, its intuitive interface and powerful features make it an indispensable addition to your toolkit, Say goodbye to resource drain and errors and say hello to a smoother, more efficient file management experience with KillCopy.
KillCopy features and benefits:
set

speed limit

in Kbps for easy transfer
set

best maximum speed

using the buffer size
auto-resume capability
transfer history log
reserve space for file