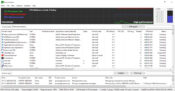 Process Lasso is a software application that allows you to manage your computer's resources by clarifying the running processes' priority, enabling you to monitor your computer's RAM usage.
Running multiple processes simultaneously can be draining for your computer, especially if you don't have a newer computer. Some applications are notorious for their extensive RAM usage. Still, many other processes can take up many of your computer's resources and run slower than expected.
Luckily, you can easily change that – with Process Lasso. This tool helps you improve the operating system's response time and quickness of your computer by adjusting the priority classes of the processes you run on your PC.
It is done with ProBalance, the algorithm that prevents certain processes and applications from hogging resources on your computer.
Improve the OS Response Time and Quickness of Your PC
With this utility, you're getting an entire interface dedicated to helping you manage your computer's resources and the effectiveness of the computer. In the interface, you'll easily track the list of all processes on your computer.
With the unique graphical interpretation, you'll see which processes consume the most resources and the resource usage history on your computer.
You can easily monitor the processor use, RAM usage, and other resources that your computer has. It allows you to see which processes waste most of your computer's resources and where there is room for improvement.
On the list of active processes, you'll be able to see the name, the ID, the assigned rules, and the priority classes of your computer's running processes. You can also see the CPU affinity, the CPU time, and all the other important statistics and numbers regarding your computer's performance.
Configure the Running Apps and Change Priority Classes
If you want to improve your computer's performance, you will have to manage the files inside that will help you make sure you're using all of the computer's resources effectively.
For each process you have running, you'll be able to assign it to a priority class. By default, the tool will use Windows's priority classes, but you can change them easily here.
You'll also be able to track the applications you have running and sort them by CPU usage and memory priorities, and you'll also be able to make changes to them.
You can change the number of app instances, change the priority, and prevent computer hibernation when the app is inactive.
Conclusion
Process Lasso is a great tool for managing your computer's resources and ensuring your apps run smoothly and quickly. You can change your apps' priority classes with Process Lasso, which helps you save time and resources and make your computer work faster and smoother.