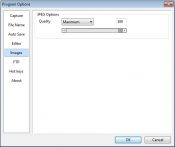 PicPick is a comprehensive editing tool for creating screenshots, editing them, and customizing them using various editing tools inside the interface.
If you need to take screenshots daily or even more regularly, using the Windows built-in screenshotting tool might not be the best option. While it does feature some nice tools, you won't have the editing tools at your disposal very easily, which is why many people turn towards third-party apps instead.
One of the best ones is PicPick. It is an application dedicated to taking screenshots and editing them, as it features a nice palette of options for editing screenshots.
It allows you to customize how you take screenshots, where you save them, and how they look in a bit more detail.
Take and Edit Screenshots
The first thing you'll notice with this application is that it will look very similar to Paint in Windows. In essence, it will offer similar tools, but it is also more comprehensive in some aspects of use, especially regarding editing tools.
To take screenshots, you'll first want to assign the hotkey for handling them. You can choose which button will perform the screenshot-taking capability, making it easy for you to take it instantly.
You can also choose whether you want to capture the entire screen or just a portion– it's completely up to you.
Customize the App
It is also great when tailoring the whole experience to your needs. You'll be able to change several aspects in the Configurations panel, such as where you'll save files, how you'll name them, and the hotkeys you'll use to take screenshots.
You can also choose the autosave function and several other tools with such a tool.
Conclusion
PicPick is a comprehensive screenshot-taking tool that enables you to take screenshots and edit them easily, as it comes with various editing tools you can choose from.