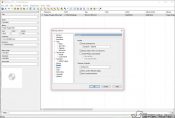 MP3TAG is a tag editor that you can use to edit your audio files' metadata quickly. Metadata appears in iTunes, Winamp, and other players and provides more information about your audio tracks.
Using metadata, you can organize your music into libraries, find specific songs, and even filter after one particular artist or album. So, editing the metadata can be quite important because many songs downloaded from the Internet don't come with any or, even worse, come with the wrong metadata.
The program can work with many tag formats, including ID3v1, ID3v2.3, ID3v2.4, WMA, iTunes MP4, Vorbis Comments, and even APE Tags. The software supports various audio formats, including MP3, AAC, FLAC, MP4, WMA, WAV, and AIF.
In other words, you should be able to edit the tags on almost any audio track. However, what to do to edit the tags on an entire album you downloaded from the Internet? No problem; this software can perform batch editing procedures.
You select all the tracks and then batch-edit their metadata. Simple, quick, and effective! The program even enables you to search for the appropriate tags online: it can pull tags from services such as Amazon, freedb, discogs, and MusicBrainz.
One can find this tag editor's user interface among the various options. According to tag information, there are options to batch rename files, replace words in file names and tags, and even export and import tag information. Furthermore, you can create playlists using tag-filtering options.
You can download the cover art from Amazon and similar services for your audio tracks. The program can export tag information as HTML, CSV, and RTF and create your collection reports.
Tagging is 100% compliant with Unicode standards. Another exciting feature is that you can combine a set of actions into a macro and then perform all the actions again with just a mouse click. By mastering this feature, you can save quite a lot of time editing tags on hundreds of audio files.
MP3TAG has performed better in our tests than other solutions like TagScanner or MediaMonkey. It supports more formats, and its batch-processing capabilities are unrivaled. All of this for free!