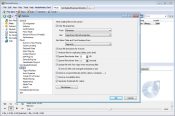 MediaMonkey keeps pushing the boundaries of reliability as far as possible regarding squeezing the last drop of performance out of hardware capabilities. That is why it can handle up to 100,000 music and video files without any issues.
Furthermore, it can be used to burn CDs and download media from the Internet, including podcasts. And disorder won't stay in your way as you organize all the music into genres or whatever category you choose.
In terms of formats, it supports MP3, MP4, M4A, FLAC, AVI, WMV, WMA, and OGG files, so you're portable device will always stay in sync with the computer.
MediaMonkey features and benefits:
Movie / Music Manager (for Rock, Classical, Audiobooks, Movies, TV, etc.)
Audio/Video Player and (MP3, AAC, OGG, WMA, FLAC, AVI, MP4, WMV etc.)
Auto-DJ and secure jukebox mode for parties

CD Ripper and Audio/Video Converter: Encode MP3, OGG, FLAC, AVI, etc.
File Monitor (automatically updates library)
Auto Renamer / File Organizer

Auto Tag Editor with Album Art Lookup
Find Duplicate Tracks and Missing Tags

Playlist Manager (auto music mixes)
Sync and backup iPod, iPhone, iPad, Android devices and others

Share media with TVs, DVD Players and other UPnP / DLNA devices
Integrated CD/DVD/BD Burner 4x