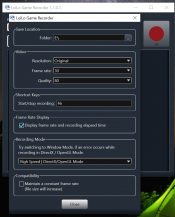 LoiLo Game Recorder can help you record in-game footage in various PVP games, allowing you to shoot tutorials, record gameplay, show off character builds, and more.
The world of game recording and streaming is becoming bigger and bigger. Millions of gamers worldwide look to find footage, tutorials, and clips from their favorite video games online.
But to record that footage, you'll need to have the right tools at your disposal to make high-quality videos.
To help you with that task, you can use the LoiLo Game Recorder. This tool is appropriate for recording in-game footage with built-in tools, enabling you to show off your character builds and more.
It is particularly effective for filming footage in PVP games where you want to show different types of footage.
High-Quality Footage
It focuses on bringing you the best possible recording tools. Thanks to its many built-in features for top-notch performance, you'll be able to maintain a good ratio between image quality, file size, and screen ratio with this application.
Unfortunately, you cannot stream with this application, but you will upload the footage you record straight to YouTube.
It is especially useful for YouTube creators who want the quickest way to upload their videos.
You can record your voice and the gameplay, which is great if you want to create tutorials.
User-Friendly
Another great feature of this tool is that it's focused on all types of users, meaning it's friendly for beginners and advanced users.
At the same time, it brings a nice blend of advanced features and a user-friendly interface, which will help all types of users make the most out of the application.
It is a relatively simple tool for recording and uploading footage to YouTube.
Conclusion
LoiLo Game Recorder is a user-friendly tool that helps beginners and advanced users record PVP footage of their favorite games and upload it straight to YouTube quickly and painlessly.