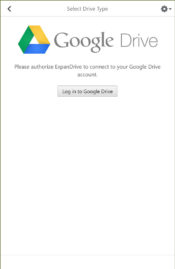 ExpanDrive will allow you to connect your favorite and preferred storage accounts like Dropbox, Microsoft OneDrive, and Amazon S3 and extract data easily.
ExpanDrive's main purpose is to help you instantly and easily connect to your favorite and preferred cloud accounts.
Moreover, it will enable you to change your data and instantly create a path between your computer and your cloud account.
Connects Your PC to the Cloud Account
Connecting to the cloud drives is easy with ExpanDrive. You can connect your computer to the main services that offer cloud services like Amazon S3, OpenStack, Swift Storage, Dropbox, Google Drive, Copy.com, HP Helion, hubiC, and WebDAV.
You will also be able to access your local SSH or FTP server with ease.
To access your cloud accounts, you'll need to know and enter your username and password for the selected account.
You must also assign the letter for the drive connecting to your computer. After you have done that, you can start the connection, and you'll see a shortcut on your drive in Windows Explorer.
Manage Files on Drives
It will allow you to easily manage your files in the Windows Explorer window whenever you wish.
By creating this connection between your computer and the cloud drive, you'll gain the ability to manage and edit your files without opening your browser or the cloud server, which can take time.
You'll be able to copy and paste files to and from the drive you have. What is more, you can set the application to run every time you launch your system, making it easy for you to start making changes to the drive and the files without delay.
Conclusion
ExpanDrive is an intuitive tool for connecting your cloud drives to your computer and making changes easily. It works with all the biggest cloud services and is easy to use.