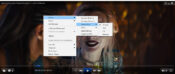 With ALLPlayer, you can play various multimedia files, from DVDs and URLs to other multimedia files.
It also allows you to get the latest subtitles for media files straight from the Internet without you having to scroll through different sites and looking out for these subtitles on various sites.
Easy to Use
One of the best things about this app is its straightforwardness. If you've already used one of these types of apps, you will have no trouble using this one, too. But even without experience with such apps, you will find yourself at home here.
That's thanks to its intuitive and beginner-friendly user interface. It is minimal and still modern, the perfect mixture for apps like this.
You will have only a few buttons for playback control and a panel to view the video feed. All this makes it easy to use for both beginners and advanced users.
Support for Multiple File Types and Subtitles
Another impressive feature of this app we liked is the extensive support for libraries of file types. With it, you can open various files, including 3G2, AVI, MKV, AVI, FLV, DAT, MOV, M2TS, MP4, 3GP, VOB, MPG, APE, AU, MKA, MP3, OGG, WAV, and many others.
But arguably, the app's ability to automatically search for subtitles online is the most impressive feature, which many users will find incredibly helpful. Intelligent subs are also supported, meaning they will adapt to your reading speed, making it easier for you to follow movies or media. You can also upload them on your own and upload the following files: TXT, SUB, SRT, SSA, and SMI.
Another alternative for getting subtitles from the Internet is to use sites like OpenSubtitle.org, which allows you to browse for subtitles for your favorite movies and TV shows.
Adjust the App to Your Needs
The app features a variety of configuration options that will make it more friendly for you. You can use the fullscreen mode, where the aspect ratio will be modified, and you can also alter it to whatever you want.
There are also some built-in presets and equalizers, making it easier to control and use the app in any way you want. Radio stations are also included with the app, and the visualization options you can choose when listening to music.
And you can also instruct the app to turn off when a movie ends.
Conclusion
ALLPlayer is a modern multimedia player that allows you to play some of the most common and popular media file types, search for subtitles online, and incorporate them smartly and efficiently into the player.