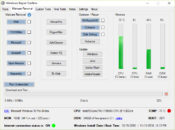 Microsoft Windows installed on your computer can be managed through Windows Repair Toolbox in a way that is meant to enhance the overall productivity. This software helps you evaluate all the problems your Windows is facing and the solutions to repair the diagnosed problem.
All the programs of this utility have been designed to be portable. Even all of the programs are categorized under headings to facilitate you to find the relevant program easily.
You do not need to monitor the repair and clean-up functions of the application. Instead, it will automatically work, and you will get a notification email about the logs of the clean-up project, detailing all the relevant data regarding your computer.
"AVLeftovers" is another functionality in this application, which allows the users to find the incomplete security programs present in the computer, which are usually the cause of problems. Through this function, you can uninstall all such procedures manually.
Another important aspect of using this tool is adding or removing the list of programs by yourself and customizing your Windows Repair Toolbox. This utility can also perform a quality check to evaluate the results.
This quality check is to ensure that the software has fulfilled its functioning correctly. Even this software allows you to make notes and store them with the repair process to use later on.
Overall, Windows Repair Toolbox is a one-click solution to all Windows problems that require clean-up or repair of the system.