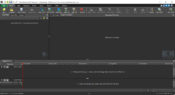 VideoPad is a popular video editing and manipulation tool that lets you manage and edit videos or clips, merge multiple clips into a single video, cut videos, and easily make changes to these files.
When you want to edit or work with video files, you need quality software to handle even the strongest demands. And thanks to this video editor, you'll have several editing and manipulation tools at your disposal.
It has many editing tools to help you get the most out of your videos. You can enhance the videos' quality, cut or crop videos, merge various clips into videos, and have full control over what you do with them.
This application will serve anyone who needs good video editing software to cover all their editing needs.
Intuitive Interface Design
It starts with the very intuitive interface design within the VideoPad Video Editor. You'll have the interface divided into several tabs, which are quite easy to use.
These parts are split into the types of content you can edit, such as Media List, Effects, Transitions, Files, Clips, Video Track, Audio Track, or Overlay Track.
You'll find various editing tools for making the videos feel like yours within each category. There are hundreds and thousands of different effects, transitions, and tracks that you can add, and you can always add your effects or tracks to the videos, too.
It gives you full control over the videos you want to edit.
Capture Videos or Add Them to the Interface
To start editing, select the file you want to work on. You can capture the video with your camera or upload one to the interface.
It's a complete tool for video editing. You can crop or clip several videos together to create an entirely new entity. Plus, you'll be able to apply all of the effects available in the interface.
Conclusion
VideoPad Video Editor is a video editing tool that helps you edit your videos easily.