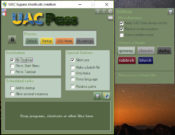 With UAC Pass you can manage the administrative rights of your computer with just a few clicks. You can decide to give the administrative rights to specific users or limit them in using these rights.
It is a portable tool that works without installation, making it easy to run on your PC. Additionally, it can be used through other portable sources including CD/DVD or flash drives.
Through drag and drop function, you can activate the disabling of the User Account Control security function and similarly, for undoing changes. The application is convenient for both – the first time users and experts.
With UAC Pass is a tool that can enable you to manage the administrative controls of your computer with a few simple clicks.