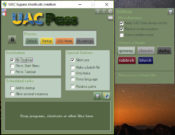 Deactivate the UAC (User Account Control) only for certain applications instead of turning it off completely by using UAC Pass. This lightweight and portable tool provides you with this capability.
With UAC Pass, you can select which applications you want to alter and which apps will have access to UAC.
You can only deactivate the UAC for certain applications, making it easy to alter only the selected applications instead of changing the entire system.
Portable and Easy to Use
It is designed to be used as simply and easily as possible. You'll find some standard functions and options that can be used by almost anyone out there.
However, if you have some more knowledge and consider yourself a more advanced user, you'll also find options for you.
The application doesn't need to be installed on your system for you to run it. Instead, you'll only need the executable file that you can use to launch the application, which is a great option if you want to launch the app quickly.
It also means no new registry entries will be created, making the app lightweight.
Disable UAC Easily
To disable UAC for selected applications, you'll need to drag and drop the files and apps to which you want to apply the changes.
You can create security exceptions, specify saving locations for the new shortcut, and apply other changes.
Regarding slightly more advanced functions, you'll also have some neat options.
For instance, if you're a more advanced user, you can bring up settings for particular files and apps, turn off the silent mode, create batch files, or use some other settings you might want to use.
Conclusion
UAC Pass allows you to alter the UAC settings of your files and apps to work with them easily.