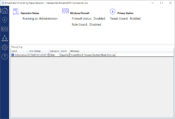 PrivateWin10 is an advanced tool that helps you enhance your Windows 10 privacy settings. The app includes a firewall that lets you control inbound and outbound connections.
Windows 10 often has some privacy problems to which not all users can respond. If you're worried about privacy settings when using Windows 10, you might know about the struggle – you want to change the settings, but you're not entirely sure how to, and figuring it out would take too long.
How about having all the possible settings in one spot? That's where an application like PrivateWin10 comes into play.
It will offer you all the possibilities to change the privacy of your system by compiling all of these settings into one place. This way, you'll be able to prevent your data from being collected by Windows.
Tweak Privacy Settings
The essence of this tool is to help you tweak the most common privacy settings on your computer using the Windows 10 system. At the same time, you'll be able to do so without having to go to great lengths by figuring out all the settings yourself.
You'll have it all offered inside this simple app that makes life easy.
When the application starts, you can define specific setup options like Autostart at logon, bypass the UAC prompt, and show blocked connections on the firewall.
The second tab of the window lets you manage privacy options for telemetry and error reporting, search and Cortana, Windows Defender, privacy and advertisement, Microsoft account, Microsoft Office, Visual Studio, and other settings related to automatic updates for drivers, fonts, speech, date and time, map, etc.
With this application, you'll be able to disable settings and features that take away your privacy. It is great if you want to ensure your data isn't collected as much.
The settings tab lets you manage the application startup behavior, firewall filtering mode, and DNS filtering.
Firewall Settings
The firewall tab allows you to manage the filters, the programs allowed or blocked, and the access rules.
In addition to other settings in Windows 10, you'll also be able to tweak the settings when it comes to your firewall.
These settings might also sometimes compromise your privacy, so you'll be able to make sure that your data doesn't get collected in this case as well.
Conclusion
To conclude, PrivateWin10 is a smart utility that does not need installation and lets you enhance your Windows 10 privacy.